When you need quality garage floor solutions in the Charlotte Metropolitan area and surrounding counties, make sure that you always choose us. Our name is Top Flight Garage Floors, and we are your one-stop shop for premier garage flooring. Experts in our niche industry, we have perfected our craft to a far greater extent than any of our competitors. Everyone in the region knows that we set the standards in our field, promising stability, precision, and care on every job that we do. You may not find another team that can promise the same high standards for the same affordable prices that we can. So, if you demand the best value for your money for your new garage floor, make sure you give us a call.
Having worked in the service industry for many years now, we have built up quite a reputation for ourselves. Over the years, we have supported countless local clients in both the residential and commercial sectors, never failing to satisfy their unique needs. Everybody knows that we never deliver any less than the best, which is a credit to the skills and consistency of our crew members. They're the best in the business and eager to show you why. So, place your faith in us today and allow us to demonstrate what sets us out from the rest.
With a comprehensive range of garage floor installation and maintenance solutions, we can promise you our support with any needs you have. Whether you are looking to create a new custom garage floor fitting, want a fresh coat for your existing fixture, or need any help with repairs or restoration, we can work with you to give you the best floor possible. Our expertise pertains to every aspect of our industry and always with the utmost quality. Therefore, if you demand the best, you need to make sure you come to us first.
No matter what garage flooring service you require from us, you can always count on it being top-notch. That is because we exclusively use the most premium materials available, in order to create higher caliber installations. Every installation is stronger, more secure, and more longevous for it, which we think is imperative with every new floor we fit. For us, no less than the very best is good enough for our customers and so, you can always expect us to provide you with unmatched levels of quality.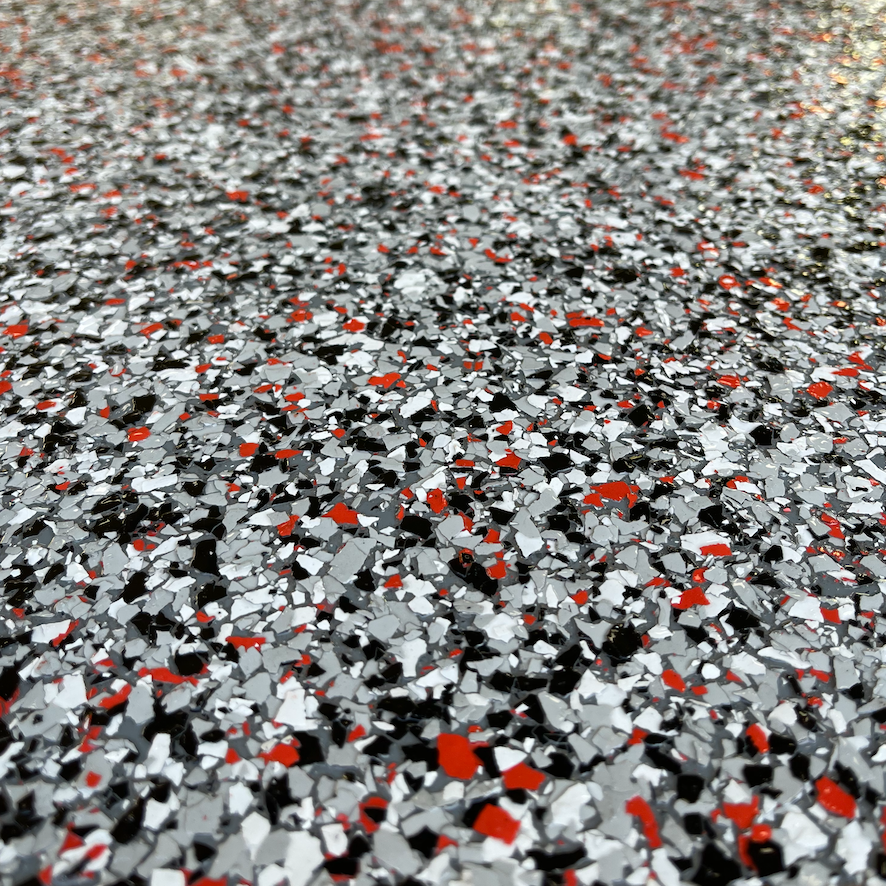 Moreover, we assure every customer of custom design with their new installations. When you are fitting a new garage floor, you need to ensure that it suits your needs and requirements perfectly. It should be seamlessly fitted into the space you have and detailed with the features that you specifically request, without any exceptions. Where your average installation team may not be capable of promising this, our expert garage floor contractors always can. So, make sure that all your needs are satisfied and make sure we're always your first choice, at Top Flight Garage Floors.
Some of the strongest garage floor installations are epoxy garage floors. Floor epoxy never fails to add strength and resistance to an installation, binding perfectly to the concrete. Epoxy concrete floors have been known to last for many decades, while epoxy floor paint assures you of premium aesthetics for just as long. Especially when fitted by our epoxy garage floor installers, you can count on your epoxy flooring lasting you a lifetime. All you need to do is let us know what we can do to give you the ideal epoxy concrete floor and we will make sure it is delivered.
Just as much so, if you want to coat your existing garage floor and ensure you keep it better protected, we can help you out. At Top Flight Garage Floors, we offer premium epoxy garage floor coatings in a range of styles. Whether you want a simple epoxy floor coating or one of our deluxe epoxy garage floor paints, it will always be of a fantastic standard. We never deliver any less than the best garage floor coatings, so you can always expect quality from us.
In fact, we can offer you epoxy concrete coatings for any type of concrete surface. Whether you need a coating for your epoxy basement floor, want to explore our concrete floor finishing options, have your heart set on a concrete stain floor, or want any other type of concrete coating epoxy, we can provide it to you. No other team can provide the same eclectic selection that we can. So, you know we are always going to be the best to call when you need any type of concrete floor coating.
But above all else, the reason you should choose us for your floor epoxy is that we offer the most affordable prices anywhere in the Charlotte metropolitan area. Whether you live in York County, Lancaster County, Chester County, Gaston County, Mecklenburg County, or Union County, NC, you can always find affordable concrete epoxy with us. So, call us with your needs today and make sure that you get the best value for your money.
Step One:  Preparation
We diamond grind the top layer of existing concrete to prepare the surface to accept our product.  Dust is expected but minimized with the vacuum attached grinder system.
Step Two:  Concrete Repair & Restoration
We apply a concrete mending product to repair existing cracks in the surface.
Step Three:  Base Layer
The tinted Polyurea base coat is applied. Polyurea is a superior product because of its fast cure time, flexibility, and strength.
Step Four:  Flake
We broadcast our flake liberally in the color of your choice!  Flake provides the color, texture, and pop that makes your new floor match the color you desire.
Step Five:  Set Up & Scrape
We allow time for the product to cure. Once the product has cured we scrape and vacuum the excess flake and remove harsh edges.
Step Six:  Top Coat
This is a clear, glossy, polyaspartic topcoat.  polyaspartic is uv-stable and will not yellow over time.  The topcoat protects the floor for years to come
Top Flight Garage Floor FAQS
We LOVE our garage floor!!! I cannot even begin to tell you how much we love our garage thanks to Top Flight Garage Floor. Several of our neighbors either did a DIY kit or paid a handyman to do the DIY kit and the quality is just really not comparable at all. Our floor is sooooo much nicer! You get what you pay for and we wanted it to last forever and look amazing and that's exactly what we got! The previous owner of our home got art paint all over the floor and they removed every bit of it, filled in TONS of cracks and the whole thing is completely seamless. Every visitor has noticed right away and given us a compliment. If I would let him, my fiancé would do the whole driveway!
- Katie Greder
We are so excited about our newly refinished garage floor done by Top Flight Garage Floors. The team was great to work with and from the beginning. They took the time to explain the materials they use, the process and answered all of our questions. The quality of the product along with their customer service is the reason we will be using them in the future for other projects like our back patio and second garage.
- Joseph Tyo
When we moved to Rock Hill a few years ago we did an at-home epoxy kit on our garage floor. Bad idea...it quickly faded and looked terrible. Top Flight Garage Floors came out and explained the difference between the DIY epoxy we used and the professional-grade product they use - polyaspartic flake floor. What a difference! I didn't think there was any hope for our old, worn garage floor and now it looks like a million dollars. Top Flight also refinished our patio that was two different concrete colors, now it all matches and is such an attractive and easy to clean option. Their team is professional and knowledgeable, I highly recommend them!
- DJ Taylor
You can get in contact with us at any time during our hours of operation by using the phone number on this website. One of the friendly members of our team will be ready and waiting to serve you and help find the perfect concrete epoxy solution for you.
"Top Flight Garage Floors recently installed my new metallic epoxy floor and the results turned out amazingly. You can see the quality of the product easily and it is clear how careful and precise they have been throughout the process. I'm so pleased with the results." – Jack M
"Thanks to the help of Top Flight Garage Floors, I found the cost of epoxy garage floor installation could be much cheaper than I thought. Without them and their fantastic prices, I don't think I ever would have made the upgrade, but I am so glad that I did." – Lettie L
"Top Flight Garage Floors do the best garage floor coatings around. Great quality, precise installs, and a can-do attitude. Great company, would highly recommend." – Thomas U